To make your outdoor space look bright and lovely, you must use proper lighting. But that's not easy, is it?
Putting it simply, outdoor lights fittings are incredibly crucial for outdoor use as they provide sufficient lighting once it gets dark. And these lights are specifically made keeping in mind that they are going to be installed in the open, so they can withstand environmental hazards.
They are a great option if you want to add convenience and functionality to your outdoor space. And like any lifestyle investment, they become a necessity if you plan to enhance the outdoor decor of your home.
So, in this practical how-to guide, we will help you choose the best lighting for your exterior. Without any further delay, let's dive right in!
The Basics: What Is IP Rating?
Not all lights are made equal; some are better than others. And when choosing one for your outdoor space, the most important thing to take into consideration is the light's durability and sustainability.
When it comes to outdoor spaces, factoring in the IP rating is very crucial. If you do not know what that is, let us break it down for you. IP rating reflects the exposure tolerance of your light, which is a good indicator of how suitable the light is for the space you are considering.
It is denoted in double digits and tells you how well the electrical components in your light are protected. While the first digit stands for the level of protection against solids, the second reflects its protection against liquids. Depending on the rating, you would be able to figure out if the light should go in the laundry, bathroom, or lawn.
The higher the number, the better your light is protected. If you have any difficulty in understanding, it is best that you consult an electrician for help.
Which Bulbs To Consider?
By now, you must have understood that bulbs play an incredibly crucial role in determining the quality of illumination in your outdoor spaces. If you prioritise longevity and energy efficiency, your best bet would be LED lights. So, the question that now arises is, which LED lights are best for exterior use?
On visiting the market, you will find many lights that come with in-built LED bulbs and chips. These are the ideal choices if the IP ratings are appropriate for exterior use. Some of these bulbs are designed to be used in highly exposed settings to withstand the climate as they are made of shatterproof polycarbonate bulbs.
Keep in mind that the purpose of using outdoor lights are mainly security, convenience and decor. Hence, spotlights can be an excellent choice to serve all these purposes.
Among the options available, you will find halogen and LED bulbs to choose from. But a lot of people opt for the other options available as halogens can heat up very fast, adversely affecting the lifespan of the bulb.
And while it might feel like a good measure when it comes to selecting bulbs, it is actually the lumens reading that would give you a better understanding of the light's output. Simply put, the more lumens, the more efficient the bulb is.
So, whether or not a light bulb is suitable for outdoor use also depends on the lumens count. You can choose flood lights that come with sensors for garage fronts and entryways. Or, you can opt for mellow atmospheric lights to decorate your walkways, courtyards, and more such spaces.
What Are The Common Types Of Exterior Lighting?
Depending on the functionality, placement, and style, there are a wide variety of outdoor lights that you can choose from. Let's take a look at some of the most popular ones that are available on the market.
1. Pendant Lights
These lights are a great decor item when it comes to patios and balconies. Besides, some variants come with sturdy rock suspensions as well. In that case, you do not have to worry about the lights swinging because of the lightweight nature of the wind.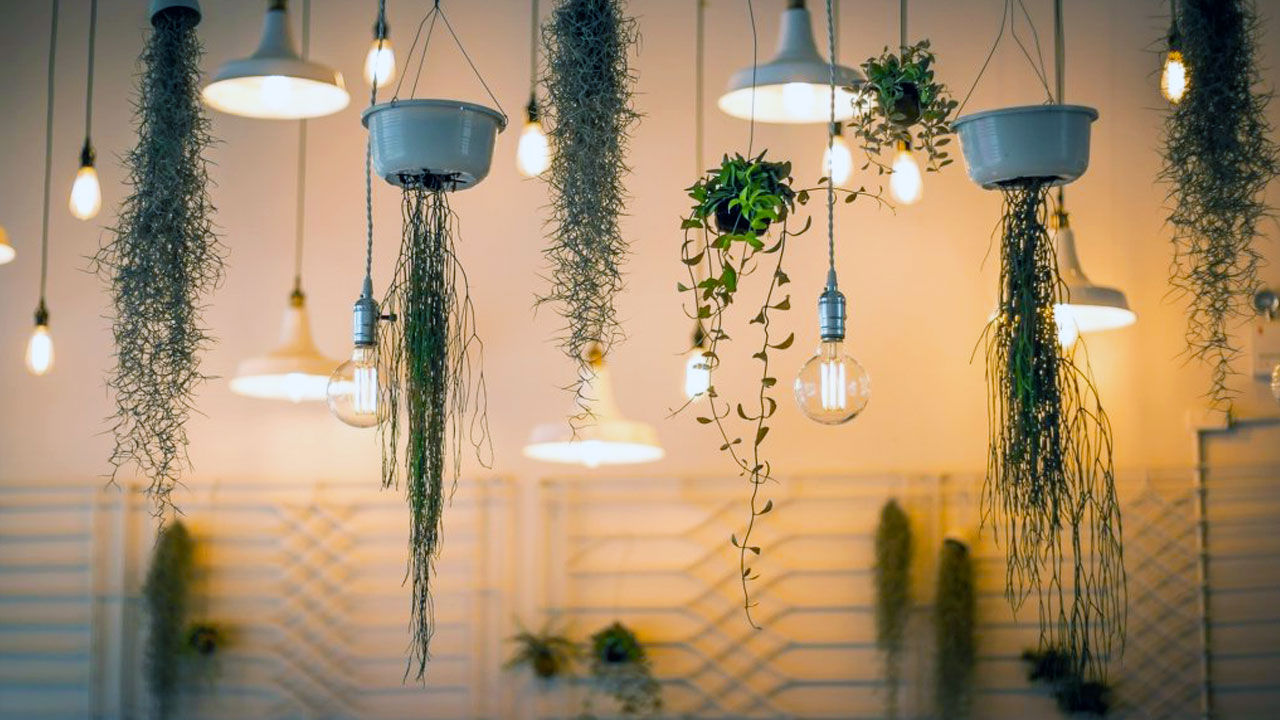 2. Wall Lights
These variants are more suited for outdoor locations, such as sheds, garage doors, entryways, and decks. They are well-suited for both decorative and functional needs. Available in a wide range of designs, these lights will surely enhance the beauty of your outdoor space.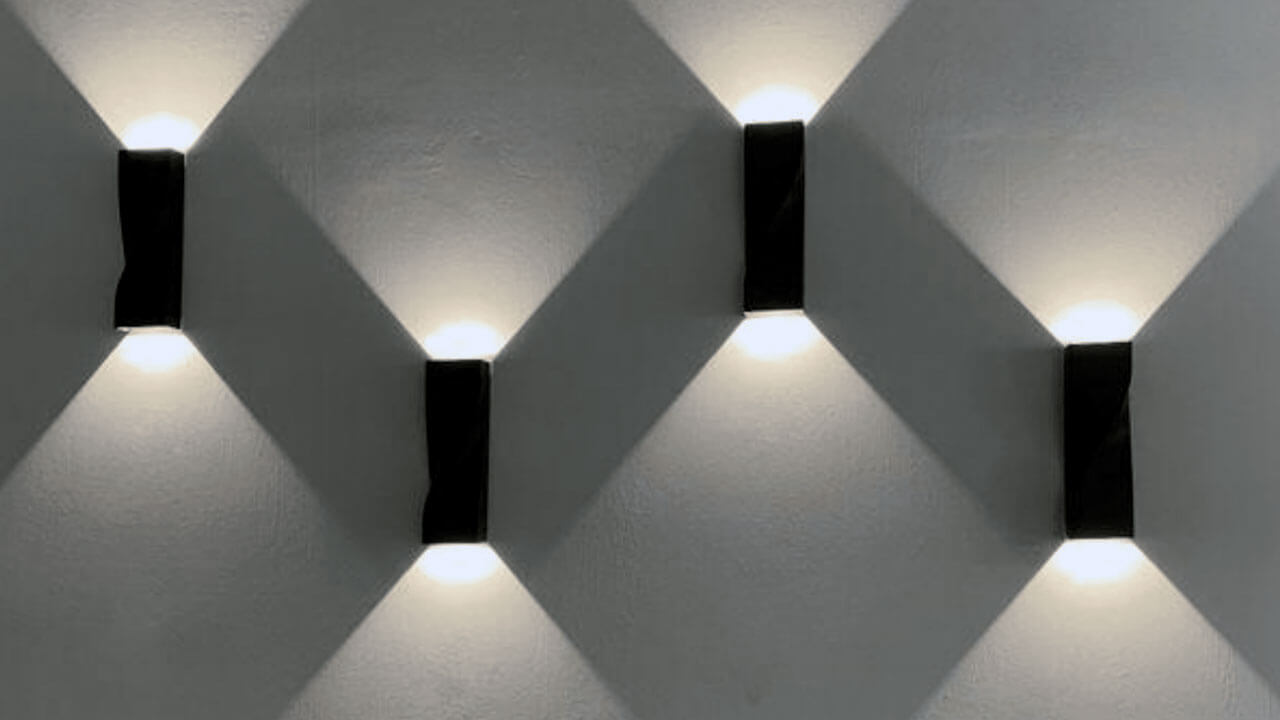 3. Spotlights
Spotlights are a great choice for both indoor and outdoor living spaces and are designed to be installed in a walkway or a verandah. And if you are planning to illuminate your backyard pool area, they can be a great fit for that too.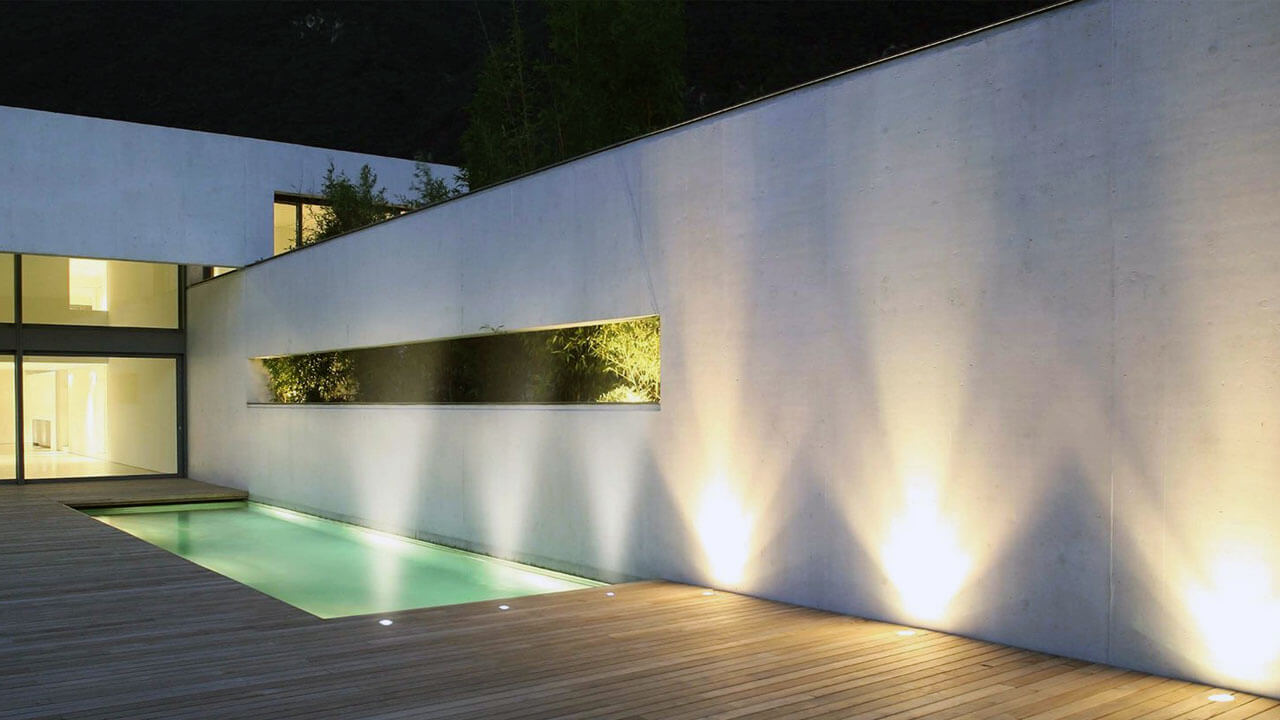 4. Festoon Lights
Festoon lights are a fan favourite and quite suited to be used as backyard lighting. They hold the closest resemblance to fairy lights and do a great job at illuminating the space and creating a beautiful ambience.
An important thing to remember when using festoon lights in an outdoor space is to keep a waterproof plug point installed. This will give you enough freedom and safety to use them as you please.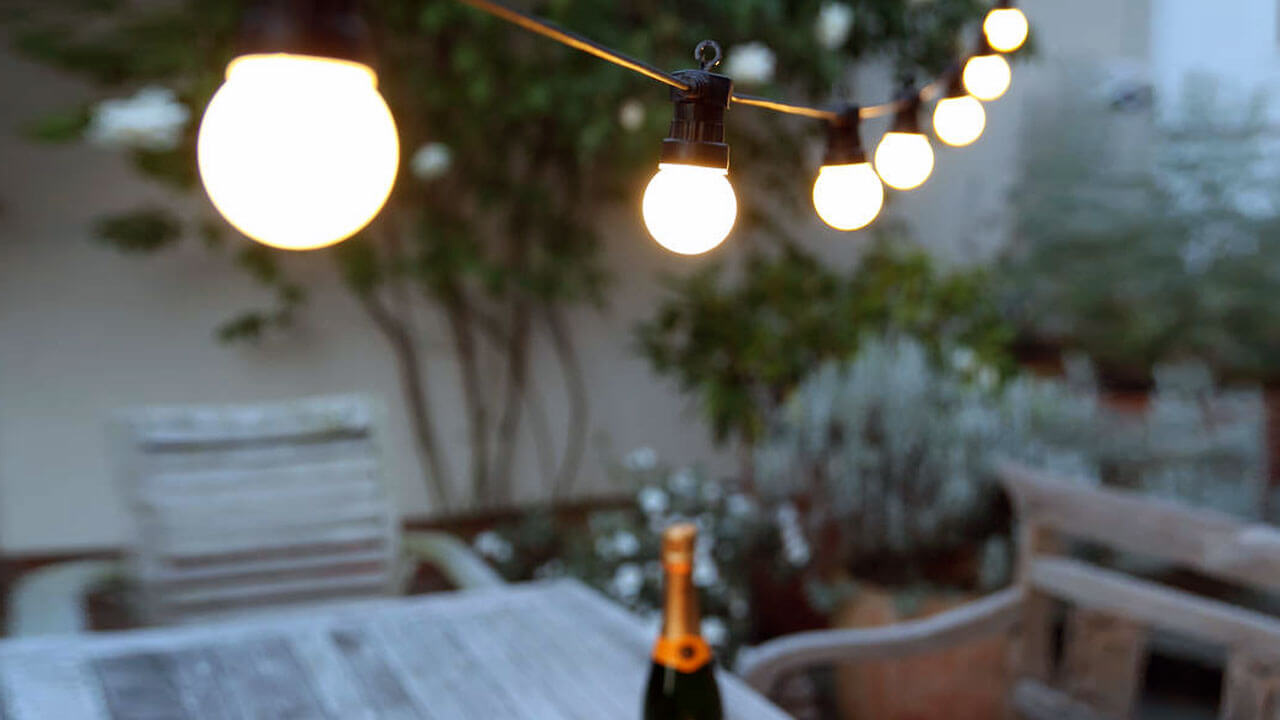 5. Step Lights
If you are looking for light options to illuminate and accentuate the front door or entry path, these may well be your go-to. They should ideally be mounted on terraces or steps according to your needs and can significantly enhance the aesthetic of the space.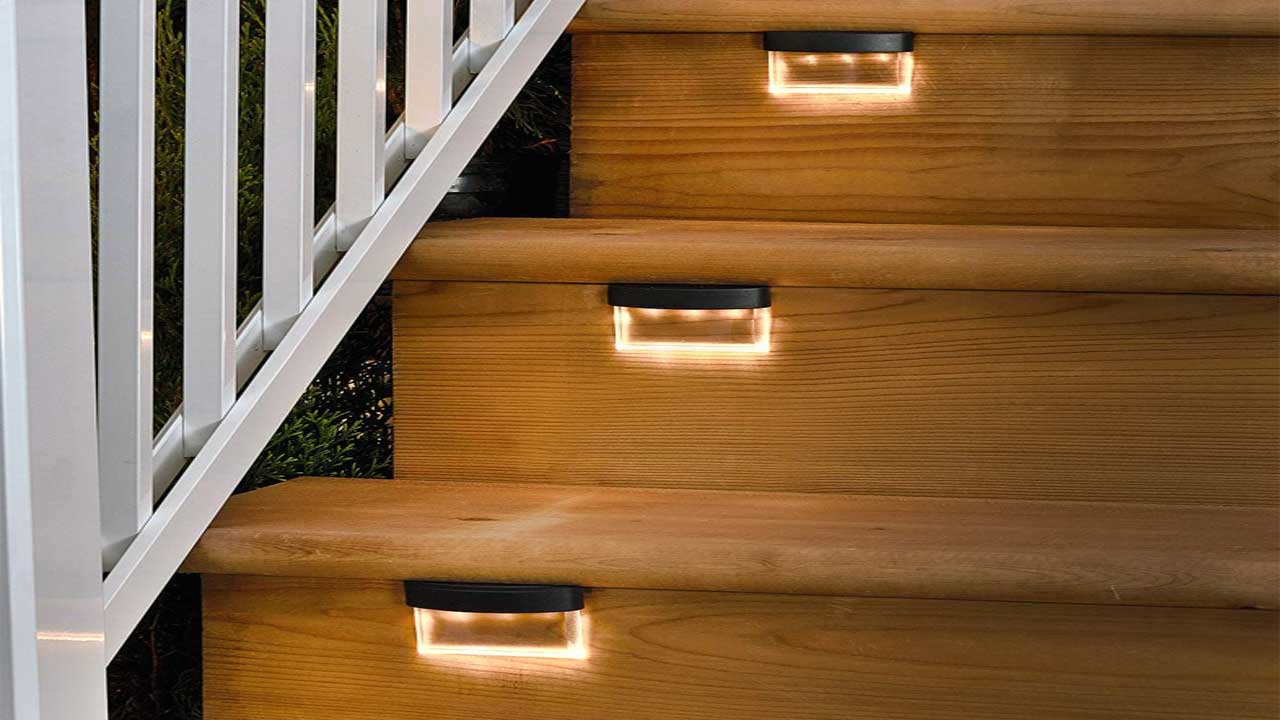 Lighting and Sustainability
The last thing you'd want after lighting up your outdoor space is to receive a hefty electricity bill at the end of each month. And for that purpose, you must choose an option that is both sustainable and energy-saving.
That's why in this section, we will take you through a few things that you should keep in mind before choosing an outdoor light.
1. Solar Lights
A few outdoor lights, like the ones in gardens, mostly run on solar power. They won't require you to break the bank and can effectively illuminate your lush and beautiful green garden, porch, or highlight a special tree.
But from what we have seen, these lights are more suited for decorative purposes as they emanate a mellow light. As a result, they would meet your decorative needs better as they do not work that great when it comes to enhancing visibility.
2. Timers and Sensors
With proper research, you can find some options that come with motion sensors and timers that would reduce your work. Bulbs with timers do a great job at saving electricity. Whenever you do not need the light (for example in the morning), you can simply put the device on the timer to make it automatically turn off.
Another way to control the lights is through the sensors.This is also great for energy savingas the light will only become functional when there is someone nearby. These features become extremely useful when you are entering your walkway or entry path in the dark and add a sense of security.
And it is for this reason that people generally prefer floodlights and spotlights for their driveways and motion sensor lights for the entryways.
Styling And Maintenance
We understand that if you are looking for outdoor lights, you are most likely trying to make the space look better. Remember, lighting plays a crucial role in this regard as it adds an exceptional aesthetic value to your space.
For example, if you have modern farmhouse decor, making the lights run across the length of your verandah would add a special touch to it. On the other hand, if you are located in a coastal region, outdoor lighting can create a relaxing environment for you to chill with a cold beverage on the porch during the evenings. But you will need an outdoor light with a high IP rating.
However, if you live in a small apartment, having space restrictions is pretty likely. And for such spaces, it is best to go with ceiling lighting or pendant lights, which would not take up much floor or wall space.
But no matter which light you choose, maintaining it properly is a compulsion. Because all these lights are placed outdoors, you would have to take proper care to prevent any form of environmental damage.
Regular cleaning would also be quite necessary to prolong its longevity and prevent debris and dust from collecting. Plus, it will ensure that all dead insects and bugs are removed, thereby keeping the fixtures in their proper condition.
Finding The Right Lights For Your Outdoor Space
That has brought us to the end of our guide today.
We hope that you had a great time going through it and learning about all the things that you need to know about outdoor lighting. We understand that everyone's needs are different, so we have put in a lot of effort and time to curate this guide keeping the different preferences in mind.
To give you a quick recap, we'd say that when you are buying an outdoor light, the most important things to check are if it's bright enough and can handle the weather. And the rest of the things will fall into place.
We'd love to hear about your feedback and experience with outdoor lighting in the comments section below. Until next time!